Scott #7 Blue,
Type II Relief B
Issued both imperforate (Scott7) and perforated (Scott 20).
Perforated copies are more scarce.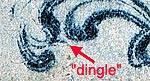 This is part of a horizontal strip of 3 consisting of 88L2, 89L2 and 90L2. One other plating indicator on the 88-89-90L2 strip is presence of the "dingle". The "dingle" is normally found on "A" relief positions. The presence of a "dingle" on "B" reliefs is useful when plating because it only shows up on "B" reliefs from the 9th horizontal row.
Violet arrows below indicate marks of interest not shown on the plating diagrams and are not known if constant or reliable.