If no navigation frame is visible to the left then, click here

Identification and Plating Services
Identification and Plating Certificates
The One Cent Franklin Plating Archive now offers a certificate of authenticity service specifically for the United States One Cent Stamp Issue of 1851-1861. This service helps the Archive offset operating costs and helps build the Archive into the research vehicle that it is now fast becoming. It also allows the Archive to document expensive and otherwise difficult material to acquire.
How To Get A Certificate:
The cost of this service is $10.00 USD per single stamp, pair, strip or block, plus return mailing cost. We highly recommend you package your stamps in plastic dealer display cards individually. 1 stamp per card, and then in a plastic or glassine envelope for additional protection.
Mail To:

Send via Registered Mail with insurance to:
Sonic Imagery Labs
c/o Richard Doporto
PO Box 20494
Castro Valley California 94546
Personal cheques, Money Orders and Paypal is accepted. Personal cheques, Money Orders to be payable to Sonic Imagery Labs. Our small cadre of platers will identify your examples down to the specifc plate and position. This can't always be done but we will certainly, at the minimum, confirm Scott number, Type and condition.
What you get in return:

A very nice certificate. The high resolution image will be used in our plating database and if the main images is of your stamp, a "courtesy of" notation is placed on the web page.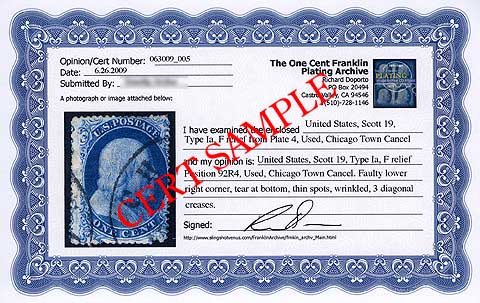 How Long Does It Take

We usually can turn around your items in less than 4 weeks.

Questions and Contact Infomation

I can answer your questions via email. I can be reached at: nerdman@ix.netcom.com






DISCLAIMER and COPYRIGHT INFORMATION:
Thanks for visiting this site. I hope you learn something new as we are making new discoveries all the time. You, the visitor, have my permission to link to my pages and to share the INFORMATION with others. The images themselves fall under the fair use guidelines established by the United States Congress and Copyright law. Basically contact us before using. I also ask in return that you send me an e-mail if I have made a mistake, or have made some other technical blunder that in my rush to put these pages up would cause the visitor confusion. Please also visit my other website at www.slingshotvenus.com. and support the live music arts. While your there, be sure to purchase our music. There are not many philatelic rock stars around and we need all the help we can get. :-)

I can be reached at: nerdman@ix.netcom.com
Copyright © 2001-2010 Richard Doporto, Sonic Imagery Labs

Update 7/03/09