You will be able to consume our noise live at:
The Shows-- May 2003

slingshotVenus are contractually obligated to
perform at following venues:
The Stork Club
Saturday May 31st 2003
2330 Telegraph Ave., Oakland CA
Show starts at 9pm and cover is $5.00
21 and over
.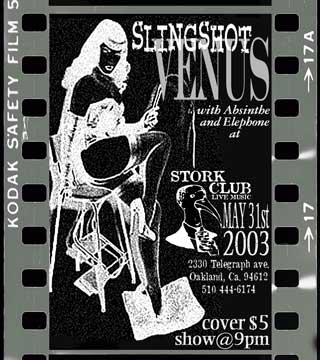 New George's
Thursday, April 24th 2003
842 4th Street, San Rafael
Show starts at 9pm and cover is $5.00
21 and over.

Don't miss this great gig. Why not join us and get a Snickers Bar?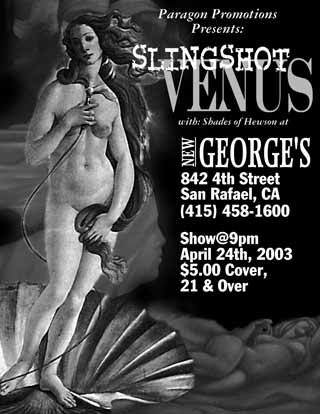 Roosters RoadHouse
Saturday, March 8th 2003
1700 Clement Ave, Alameda

Show starts at 8pm and cover is $8.00 despite what the
flyer below says. We only just found out. This is an all ages show.

Don't miss this great weekend gig. We're hearing a lot of great things about the newly re-energized Rooster's Roadhouse, and it looks like a lot of people have been waiting for a good excuse to go there... Why not join them?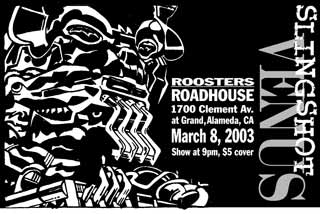 The Red Devil Lounge
Wednesday, February 26th 2003
1695 Polk street at Clay, San Francisco
415.921.1695
Show starts at 9pm Our first show back after a long and largely uninteresting hiatus. See our new drummer Chris Brague, and enjoy the fine night-life that has made the Red Devil Lounge famous among literally dozens of people! Also on the bill are popular bands Moonlife and Bizarre Love Triangle.